What to Look for in a Good Home Office Chair
If you're like many Americans, you're working from home — using your own home office chair and desk. However, you may be getting that sinking feeling (literally) that maybe your chair wasn't designed for use 8 hours a day, 5 days a week. 
The thought of getting a new chair can be daunting. It's just not the same as ordering a coffee tumbler on Amazon. The chair you use directly impacts your health, productivity and posture. Here is a checklist of what to look for when buying a new home office chair. 
Lumbar Support – Lumbar support is the part of the chair that supports the curve in your lower back. Ideally the height and depth of the lumbar support will be adjustable. 
Adjustable Arms – Office chair armrests keep your arms supported and at the proper angle and height for safety and comfort. Look for a chair with armrests that are height adjustable so you can customize this feature to your body size. Pivot adjustments are available on some chairs. 
Swivel Base – Throughout the day, you turn and move many times. Your chair needs to turn with you so the ability to swivel is a must. 
Appropriate Wheels – Is your home office chair going on carpeting? A wooden floor? Tile? A glass chair mat? During the course of a day working at home, you'll move more than you might think. Wheels need to be appropriate for the surface they're going on so that you can glide around your workspace with ease. 
Tilt Adjustment – Tilting your office chair seat forward promotes healthy spinal posture by taking pressure off of your lower back when needed. 
Seat Depth Adjustment – Often called a seat slider, this feature allows you to slide the office chair seat forward and backward, locking at the position of your choice. This accommodates leg lengths and backside sizes of all kinds.
Height Adjustment – This element allows your feet to be flat on the floor and your knees bent at 90 degrees thereby maintaining healthy circulation. 
Reclining Seat Back – Helps reduce back pain by lessening spinal load. 
Cushioned Seat – A cushioned seat is a must for overall comfort, back and tailbone support throughout the day. Memory Foam or a similar product is recommended.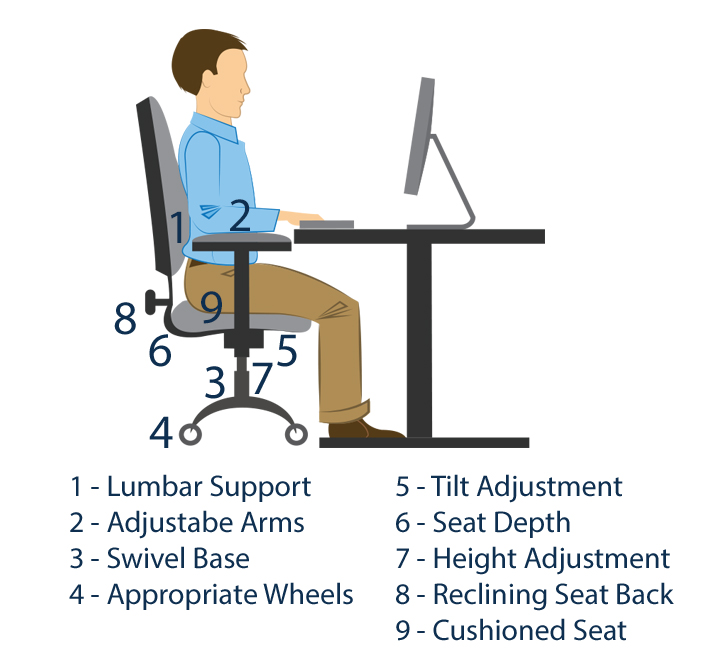 Once you work your way through this list of "What to Look for in a Good Home Office Chair", there's one more item to consider. The best way to make your final decision is to sit in the chair. Adjust it to your body type and comfort level with your feet flat on the floor. Ensure that your arms are supported and at 90 degrees. Check to see that your back is flush against the backrest. Close your eyes, sit for a short time, and let your body tell you if this is "the one".
At Office Furniture EZ, we invite you to try before they buy in our Denver area showroom. We have many of our best-selling home office chairs on hand for you to test drive – both new and gently used. In addition, we offer chairs for most needs – standard desk, sit stand desk, big and tall … and many more. Finally, all of our in-stock items are sanitized as outlined by the CDC, so you can rest assured that your new home office chair is a quality item that's ready for work.
Need help? Have a question?
Looking for a price quote?
Schedule a Free Space Planning Visit