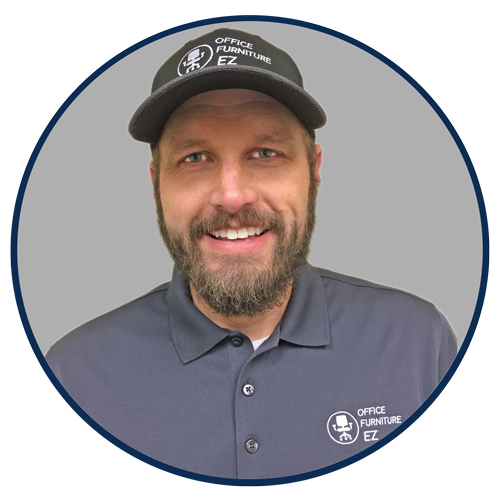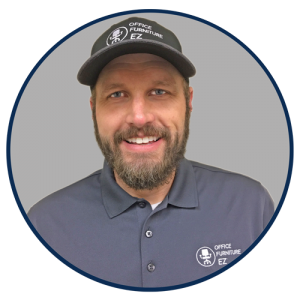 Tim Schwankl is one of the owners at Office Furniture EZ. He is an expert in office cubicles, desks, tables, and chairs. He's also highly experienced in site planning, logistics, setup and service. Below are his answers to some questions people often ask.
Ergonomic office furniture is a term used to describe items that have been specifically designed to maintain a healthy posture throughout the workday in a home office or business. Pieces of ergonomic furniture usually feature adjustments so that the piece can be customized to your body type and posture. An office chair with arm rests and lumbar support is ergonomic as is a height adjustable sit stand desk. 
Just like sitting all day, standing for 8 hours straight is not ideal for the human body. When someone gets their first stand up desk, it is recommended that they work toward standing 2 hours a day and eventually building toward 4 hours total. A good practice is to alternate back and forth between sitting and standing throughout the day, changing positions every 30 minutes or so. Bottom line, don't stop sitting all together and at the same time, don't stand for 8 hours either. Also, remember to talk walk breaks for even better circulation. 
A chair with arm rests is preferred over one without because it helps to maintain a 90 degree angle at the elbow. At the same time, it helps in keeping your wrists straight. An office chair with armrests also keeps your arms and shoulders in a relaxed position. If possible, get a chair with armrests that are able to be adjusted up and down and side to side. These features allow you to customize your armrests to your individual body type and posture. 
First and foremost, please defer to local, state, and federal guidelines for COVID-19 practices in the workplace. That said, it is possible to reduce the possibility of spreading germs in meetings during the Coronavirus pandemic. The most obvious step is to reduce the number of participants in each meeting. We also recommend that all meeting participants wear masks. In addition, it's a best practice to have one door for entering the meeting, and one door for exiting the meeting, if possible. The purpose of this is to avoid close, face-to-face contact. You should also designate an empty seat between every 2 participants. Finally, you might consider acrylic dividers between those who face one another. 
The average office chair has between 3-5 adjustments. Some chairs have up to 14 in all. The adjustment to look for is the seat slider or seat depth adjustment. This features allows you to customize how far forward your body is relative to the back of the chair. It's important for you to be positioned so that your back is supported as much as possible while still allowing your knees to be bent at approximately 90 degrees. When your back is well supported, your body doesn't need to work so hard to keep you upright. In addition, when your knees are properly bent, good circulation to your lower body is maintained. 
A task chair is one that is intended for short term use - less than 8 hours a day. Task chairs are usually small and inexpensive relative to standard office chairs. In addition, they typically don't have arm rests or adjustable features. They're commonly used for quick meetings or in shared workstations.
A traditional office chair often has ergonomic adjustments, arm rests, as well as lumbar support. Higher quality fabric and padding are used in standard office chairs. Finally, a standard office chairs is intended to be used 8 hours or more per day, 5 days a week or more. 
Standard cubicles come in these sizes: 6'x6', 6'x8', or 8'x8'. The height is usually measured in terms of low wall (39"-47") medium wall (53" - 62") and high wall (67" - 85"). Other terms used to describe the height are: open, seated privacy, and standing privacy.

Cubicles are meant for one person in most cases. The additional space is often used for storage, additional equipment or a temporary guest chair.
The best way to plan for cubicles and ensure you maximize your space is to have a professional site survey from an experienced and reputable office furniture supplier. 
The size of your conference table is dependent on two things. The first is the size of the room and the second is the number of people you hope to seat. 
Offices come in a variety of shapes and sizes, but as a general rule, you need a 15' x 12' room to fit 4-6 people around a table approximately 7' x 4'.
A 16' x 12' room is needed for an 8' x 4' table that seats 6-8.
For 8 to 10 chairs, plan on a 32' x 12' room and a 10' x 5' table.
Finally, for 10-12 people, you'll need a 22' x 12' room and a table that's 14' long and 4' wide. 
For an ideal fit that's in fully compliant in terms of safety, COVID-19, and ADA compliance, we recommend you have an office furniture professional visit your office and conduct a site survey. 
Yes, fire safes are a great first line of defense for protecting important documents, cash, photos, media and some electronics.  However there are varying degrees of protection. The temperature of the fire and length of burn time will impact how well your items are protected. In addition, some safes provide added protection from water and theft as well. 
A manager's chair is typically larger and more impressive than a standard office chair. It's often features high end fabric or leather, luxurious padding and a high back. In addition, manager's chairs typically have ergonomic adjustments, padded arm rests and high quality casters. 
Yes. You should have a comfortable office chair for the portion of the day when you're sitting at the desk in its lowered position. You may also want to invest in a perch chair or drafting stool. This provides you a third option aside from a conventional office chair and standing. 
The keys that open the drawers on filing cabinets that are part of a cubicle system are sometimes referred to as cubicle keys. We can assist you with getting them, however for security reasons, we only offer this particular service to customers who have already purchased cubicles from us. 
Cubicle walls or panels are able to be cleaned and disinfected. The fabric is solution cleaned to remove dirt, dust, allergens and germs. In addition, the hard surfaces (tops, bases, connectors, and desktops) are wiped with a disinfectant. 
Social distancing partitions come in a wide variety of shapes, sizes, materials. In addition, there are quite a few options when it comes to mounting or placing your sneeze guard on a desk or cubicle. Some of the ways these glass or acrylic dividers can be attached include: freestanding (with a base), clamp (no drilling) or permanently mounted (with screws). 
A designated learning space for the student is a contributing factor to the success of homeschooling. A desk that can be easily moved is recommended. The desk should have a matching or fitted chair as well. It's also wise to consider a desk and chair that can be wiped down periodically. For grade school through middle school, we recommend the Zumi desk and chairs. For high school students, a sit stand desk with a perch stool or drafting stool is a popular choice. 
Do you have a question that's not covered here? We'll be glad to help! Just email us from our Contact Page or call 303-371-8787.
Need help? Have a question?
Looking for a price quote?
Schedule a Free Space Planning Visit