At Office Furniture EZ we're experts in cubicles and we specialize in helping you maximize both your budget and your office space. Did you know we offer a no-cost, no-obligation site survey to help you configure your furniture for maximum efficiency and productivity? Just call the number at the top of this page to schedule an appointment. Below is some information that you can use to familiarize yourself with new, remanufactured and used cubes.
Types of Cubicles
We sell new, re-manufactured and used cubicles. What's the difference? What's best for your workspace? We've defined each of these offerings below.
New
There are a number of reasons to buy new cubicles. Ease of obtaining parts is one of the main reasons people choose new over used. Another reason is that new units allow you to configure the layout to maximize every inch of your office space. New cubes also enable you to choose the exact color scheme and design, thus making your office more appealing that using a color that may not compliment its surroundings. Finally, new models often have the latest accessories and add-ons available – and this is important for some of our customers. Here are just a few of the many new cubicles we offer at Office Furniture EZ.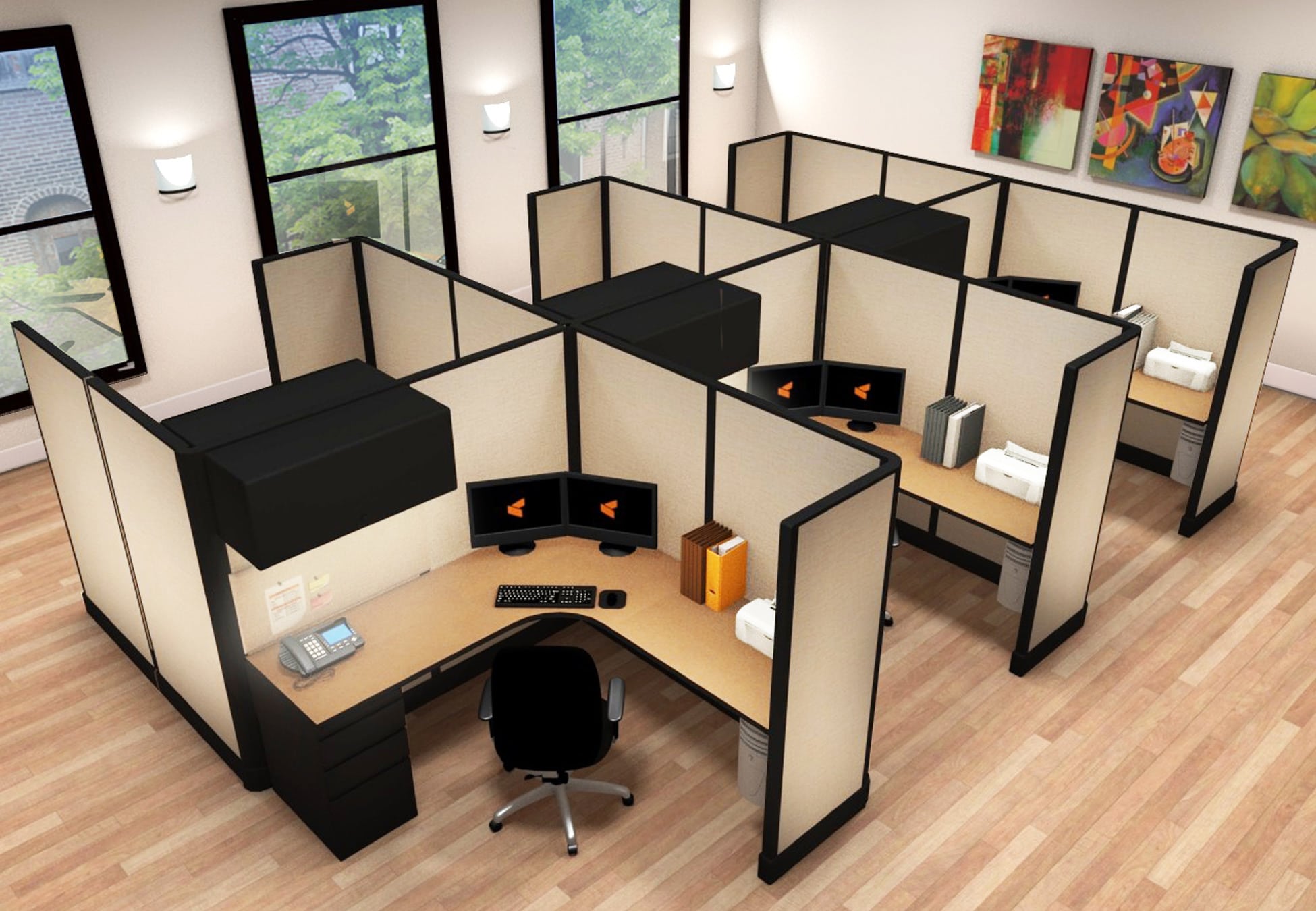 Re-Manufactured
Remanufactured (also known as refurbished) cubicles are made using 3 components of a used cubicle: the panel core, the connector core and the overhead core — basically the skeleton. All other components are new and can be customized in terms of configuration, color, fabric and much more. Our customers who prefer Green office furniture like the fact that when constructing these cubicles, the parts are stripped down and all usable pieces are recycled, thereby reducing the carbon footprint. The remanufactured cubicle is held to the same of quality and durability standards and the units look and function as new. They sell for about 40% off of the price of new units. Here is more information on our selection of remanufactured office cubicles.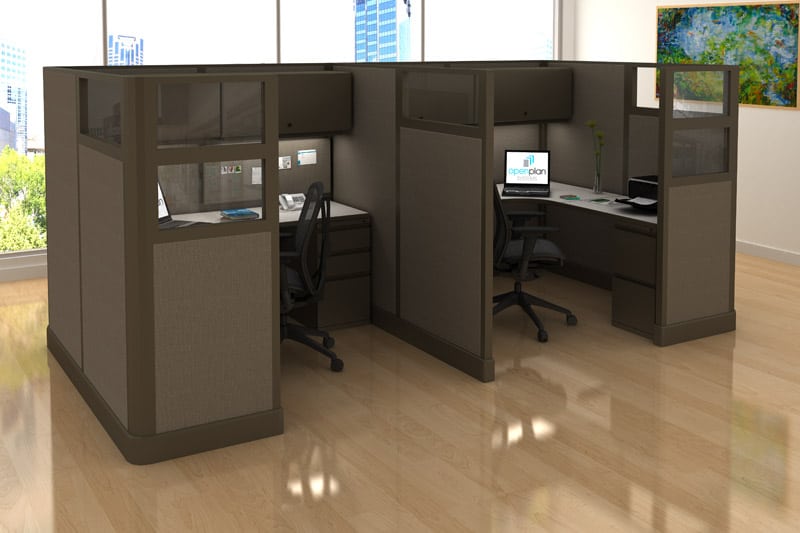 Used
Used cubicles are a great way to save big on your office furniture expenses. They are often the result of office moves, bankruptcies or building remodels. They are generally purchased as-is and aren't able to be customized. The good news is that some top brands are available used and many are in excellent condition. Here at Office Furniture EZ, we're highly experienced in setup and installation so we can assist in getting you up and running with used units on short notice. Here are a few of the used cubicles we currently have in stock.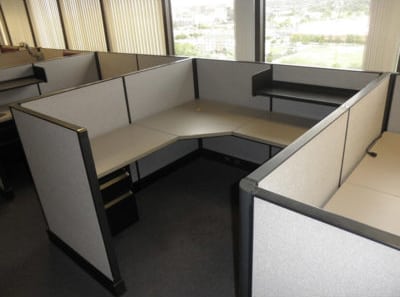 Cubicle Heights
Cubicles are available in an array of different heights. When choosing cubicle panels, you should first determine how much privacy your team members need. Here are some of the options available.
The 39″ cubicle provides no privacy. Team members can easily see and hear one another.
The 47-53″ panel provides seated privacy. This option is good for teams who require privacy combined with collaborative communication throughout the day.
The 62-67″ panel is for standing privacy. These provide visual privacy and they also help cut down on employee noise – a good option for call centers.
The 85″ panel is for full privacy. These cubicles can reach a ceiling in many cases and provide complete visual and sound privacy.

Cubicle Terminology
When buying cubicles, there are a few terms you'll likely hear along the way. From base covers to overhead storage, and everything in between, a completed unit has multiple components, parts and accessories that need to work together. We've assembled work stations all over the country (click here to see some examples of our work) and we look forward to helping you make the most of the space in your organization.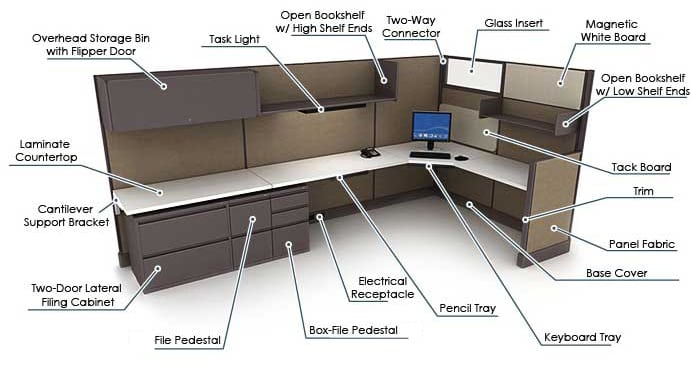 If you need help with a custom order, a bulk purchase for a large office or general questions surrounding our cubicle inventory or preferred brands, contact us today! With over 10 years in the office furniture business, we have the expertise and experience needed to address any of your office cubicle questions.