The Latest Trends in Cubicles
Cubicles are the office furniture of choice for many organizations … and a cubicle is a cubicle, right? Not so fast! Cubicles come in many shapes, sizes, fabrics and with differing functions. Here at Office Furniture EZ, we see a lot (and we mean A LOT) of cubicles. Below are a few of the The Latest Trends in Cubicles we've noticed in today's workplaces as we make our way around Colorado and the United States disassembling and assembling cubicles and other office furniture.
Short is the New Tall
The upside of cubicles has always been the fact that you can create a high number of individual work stations in a reasonable amount of office space. Many organizations chose tall cubicles to provide the employee with complete privacy. While this sounds nice, the taller walls block airflow, natural light and even artificial light. Cubicle heights range from around 39" to 85". The new trend is mid-level cubicles. These units provide a hybrid of privacy and exposure to the surroundings. While seated, the employee has some privacy but when standing, he or she is able to view the rest of the office. We're seeing more companies interested in these semi-private models versus the standing-privacy units. Mid-height cubicles are somewhat of a step in the direction of an open office space, without departing from the space-saving benefits of partitions.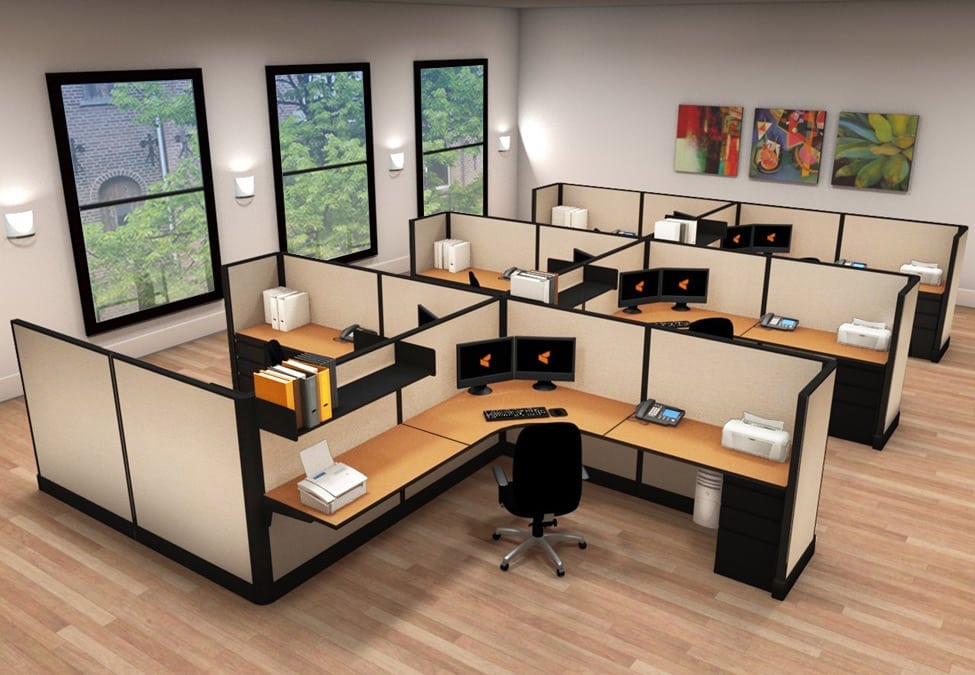 Cubicles in Color
Cubicles originally came in very limited colors. Typically gray or tan, making it easier to complement the existing colors of carpet, walls and other office furniture. Now, cubicles are available in a variety of finishes and fabrics. While colors are still somewhat muted, beautiful options are available in blue, brown, tan, yellow, green and more. Wood and metal components are also available in a wider variety than ever of options. Some cubicles have options for multiple colored panels or brightly colored back panels and dividers. If you need some help with ideas for how to integrate color into your design scheme, visit our ideas pages for inspiration.
Accentuate With Chairs
Maybe you already have an existing arrangement of cubicles that you are using, but you'd like to modernize your office a bit. Colored chairs are a great way to add uniform color to an area. Our most popular chair comes in a variety of colors and is economically priced. We also offer mid-range chairs available in a selection of colored fabrics. Finally, we offer a top of the line chair called the Novell that's white with your choice of colored seat fabric.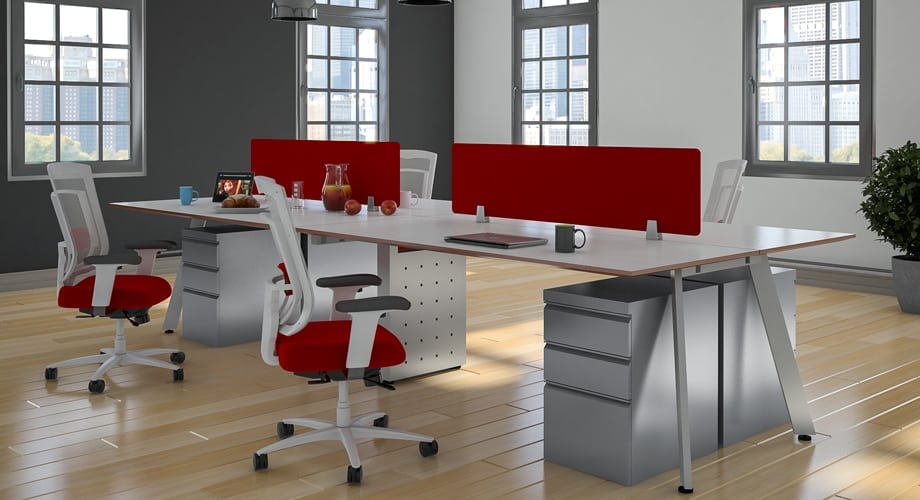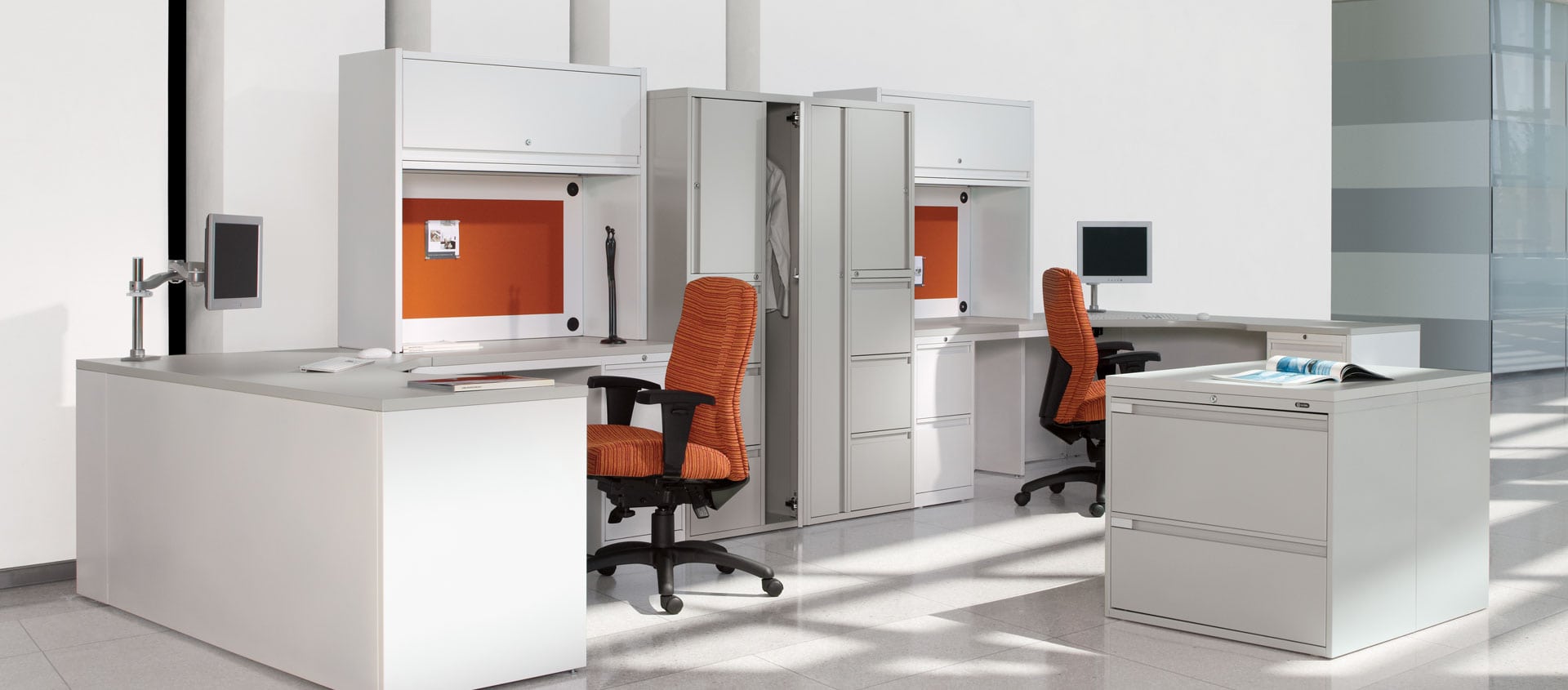 Let the Light in – Glass Panels
Mid-height cubicles are gaining popularity in part because they allow natural and artificial light to permeate more of the office. An alternative or supplement to this is clear or opaque glass panels. You can design your cubicle to have portions of these panels so that the employee gets natural light while still enjoying some privacy. The panels are also available in clear glass that helps to deflect office noise. There are hundreds of possible configurations and options and we're experts at helping you achieve the function and look you need. Schedule a Free Site Survey today to get started.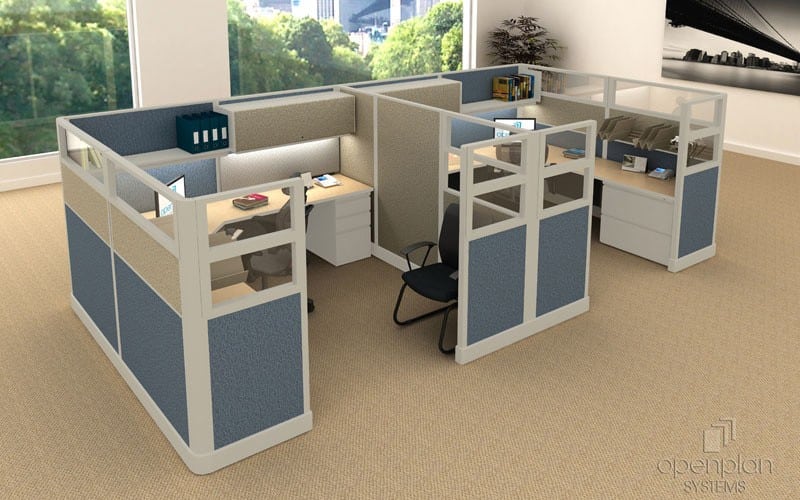 Go Green!
Why buy new if used will do? We sell new, used and remanufactured cubicles. "Woah, remanufactured? What's that?" Glad you asked. Remanufactured is about as close as you can get to new without being actually new. The "guts" or the skeleton is used but all other components are new and can be customized. This includes fabric, color, configuration and more. If you need a budget-friendly cubicle solution now, we have lots of gently used cubicles in stock and ready to go. We're experts at delivery and installation, so regardless if you buy new, used or remanufactured, we can help install them – safely and securely.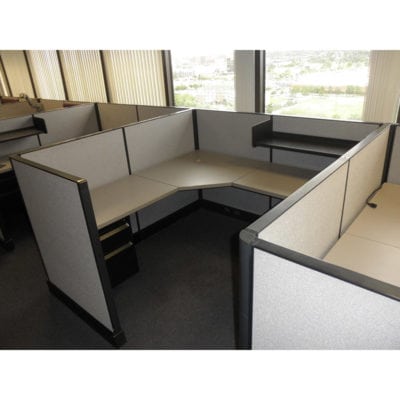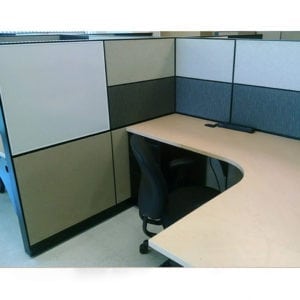 Sit Stand Desks … in a Cubicle?
Height adjustable desks (also known as sit stand desks) are becoming more popular in today's office. These desks enable the employee to alternate between sitting and standing throughout the workday. But they don't work in cubicles, right? Not so fast! Sit stand desks come in a variety of options, including desktop models that are portable, to tables that move up and down with a remote control. We can assist you in creating a sit to stand option for your cubicles. The best way to get started is to request a Free Site Survey. If you're not ready to have us out just yet, visit our Sit Stand Desk page and learn more about your options for a healthier workplace.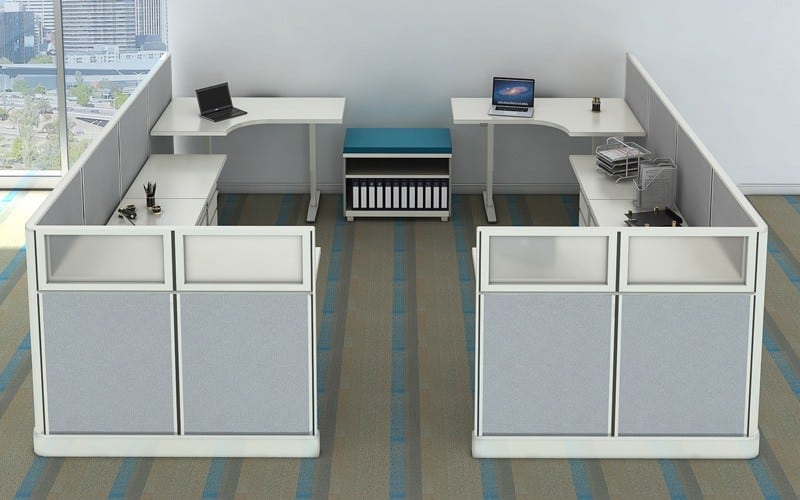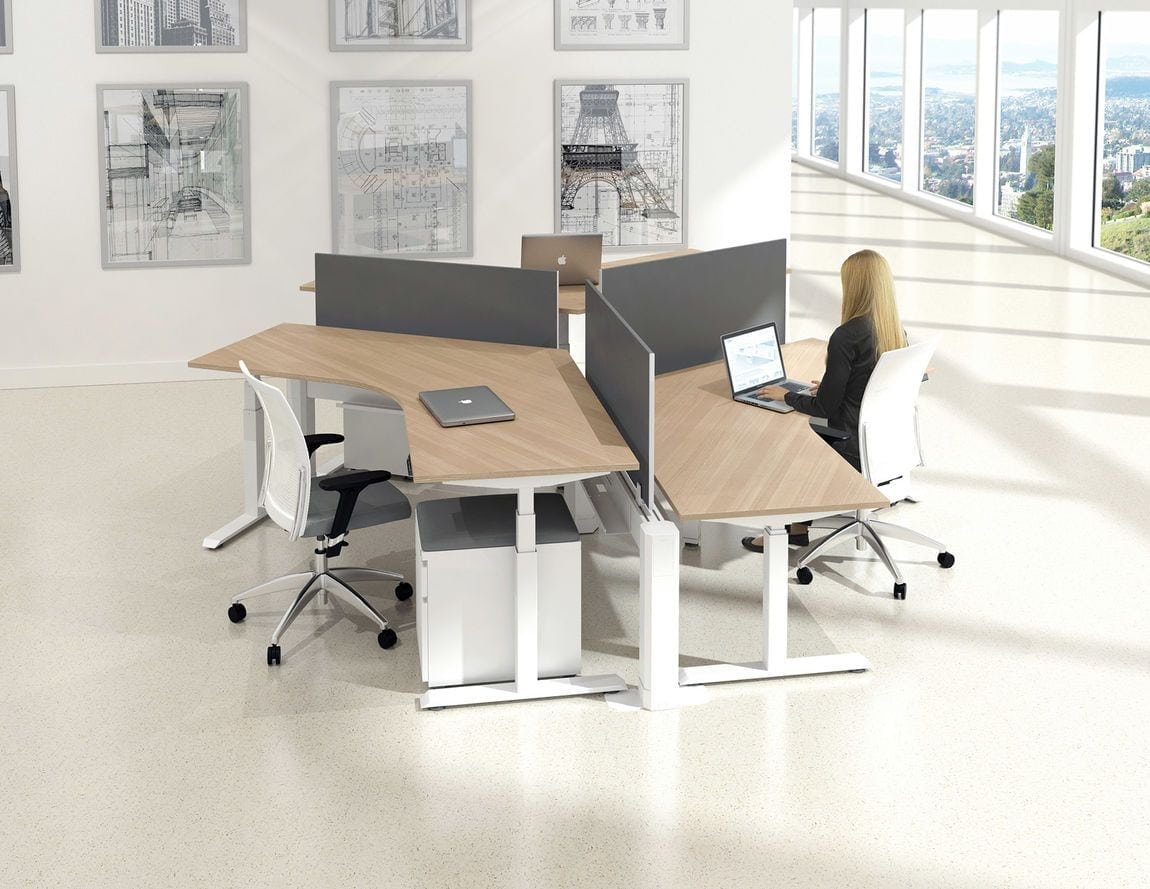 At Office Furniture EZ, we aren't just an office furniture store. We're you design and planning partner. We offer a no obligation free site survey to discuss how much furniture will fit in your office space and how to best arrange it. We measure, note power sources, and check lighting sources. We also help ensure compliance with LEED Certification, ADA and other safety regulations. From there, we provide a no-obligation quote.
We have worked with companies in the Denver, Colorado area where we're headquartered but we also have nationwide capabilities for setups, take downs, moves and more. Put our experience and expertise to work for you!
Need help? Have a question?
Looking for a price quote?
Schedule a Free Space Planning Visit