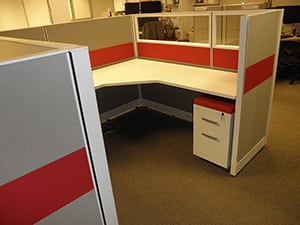 LANDMARK DIVIDEND, LOS ANGELES, PHASE 2
For this phase of workstations at their corporate headquarters in El Segundo, CA (near Los Angeles), Landmark Dividend decided to go with a sharp, new, stylish system with two fashion fabrics on the panels. This project included twenty-one cubicles with a central printer station. The shapes are crisp and the colors are bold for a great look. The glass panel tops add a great touch. We are partnered with furniture and installation companies across the USA and can provide your company with a consistent look throughout the USA.
Need help? Have a question?
Looking for a price quote?
Schedule a Free Space Planning Visit