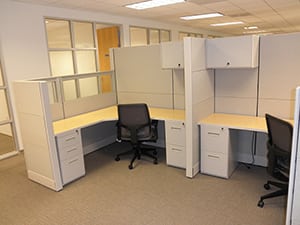 LANDMARK DIVIDEND, LOS ANGELES, CA
A new, workstation tile system was used to build-out this beautiful, highly functional, project in Los Angeles for Landmark Dividend's new multi-national financial headquarters. This project included forty-nine workstations and the designer selected finishes fit perfectly with the surrounding decor. The glass panel tops added a great touch. This product was an amazing value for Landmark Dividend as the project was large enough to qualify for direct ship container pricing. Office Furniture EZ is partnered with furniture and installation companies across the USA – from Los Angeles to Wichita to Corpus Christi, Baltimore to Chicago to Spokane – we can get it done for you anywhere at the right price!

Need help? Have a question?
Looking for a price quote?
Schedule a Free Space Planning Visit