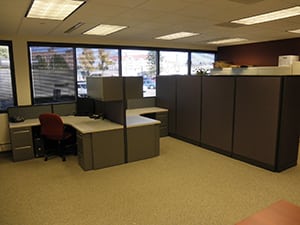 Scofield & Scofield, Centennial, CO
We headed down Interstate 25 from Denver to Centennial, Colorado to deliver and install these like new (really), Steelcase workstations at Scofield & Scofield. They were the perfect addition to this CPA firm. The 30" deep worksurfaces give the associates a large desk top area to spread out their client's worksheets. The tall panels next to the cubicles were used to separate the office's files cabinets from the rest of the office to provide a more clutter free working environment. This is another example of wonderful used product Office Furniture EZ obtained from a partner dealer in Denver – if we don't have it, we will find it … and at a great price.
Need help? Have a question?
Looking for a price quote?
Schedule a Free Space Planning Visit