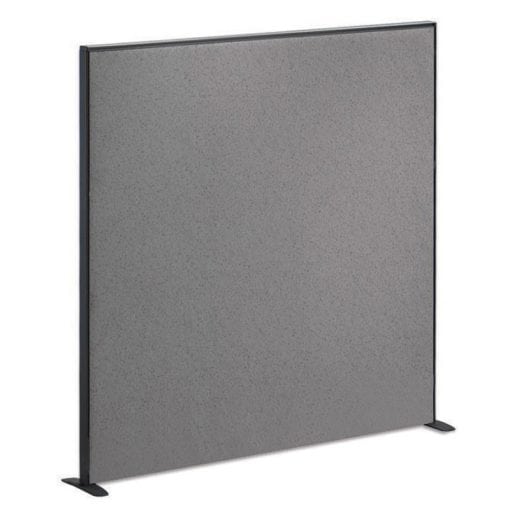 Freestanding Cubicle Panel
From $139 (24″ wide x 42″ tall) to $303 (72″ wide x 66″ tall)
Example prices are for a single free-standing panel including two support feet and two finished end cap pieces.
Locally Stocked Item!
Our Freestanding Cubicle Panel is a solution when you need to divide a room or create a temporary work station. These upholstered partitions are heavy-duty commercial grade. They are easy to install and available in a variety of sizes to accommodate your space. They are held together using the SpaceMax EZLOCK connection system.
If you need assistance with set-up, our team is highly experienced and ready to help. We sell a full line of panel accessories including: corner connector, T-connector, end cap, support foot, wall mount kit, and stabilizing bracket. At checkout, we'll contact you to discuss which of these will be needed for your project.
Features
2 1/4" thick Aluminum frame construction provides outstanding strength and durability
Installation and reconfigurations are quick and easy with SpaceMax's EZLOCK connection system
Stylish contemporary design
Stocked in upgraded designer fabric
Specifications
Aluminum frame
2 1/4″ thick
Available in widths of 23″, 30″, 36″, 42″ 48″, 60″ and 72″
Available in heights of 66″ and 42″ (visit our Cubicles Page for information on how to gauge heights)
Designed to function as room dividers or desk wraps