Benefits and Tips for Bringing Your Faithful Companions to the Office
When people look for a new job, the benefits package is a critical factor in determining where to apply and in some cases, where to accept an offer. Paid time off, insurance, and sick leave are deal-makers. But what about being able to bring a pets to the workplace? What kind of an impact would bringing your faithful companion to work have on you? If you're like many pet owners, it would be huge.
Pet-friendly workplaces are becoming commonplace in today's job market. But is allowing pets in the workplace good for the employee? The company? The pet? Here are some "paw-sitive" benefits to employees:
Reduced Stress
A study conducted by The Virginia Commonwealth University's Center for Human-Animal Interaction found that employees who brought their pets to work had reduced stress throughout the day as compared to their colleagues who have no pet or left their pet at home. Having a dog or cat around makes people feel good and it alleviates angst about what the pet may be doing home alone or having to work late. Consider the fact that pets serve as comfort providers to those who suffer from anxiety and other emotional concerns.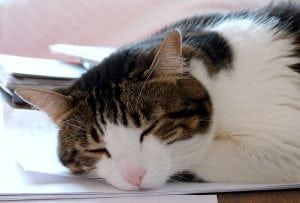 Job Satisfaction
It's safe to say that with similar salary offers, pet-friendly offices are likely to get the nod from candidates who are pet owners over those offices that don't offer this incredible benefit. In addition, workers who enjoy this special perk feel valued and this is especially important to the millennial employee. Finally, a unique benefit such as allowing dogs (and cats) at work can help retain valued employees and that is a direct savings of cost and other resources for the company.
Camaraderie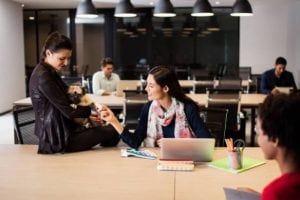 With pets in the workplace, water cooler conversation turns pet meet and greets, discussions about pet-parenting and bonding. If you've ever been to a dog park, you likely know that pets can help with breaking the ice and fostering interaction among owners.
Physical Health
It's a fact that dogs like to go for walks therefore having dogs the workplace can inspire owners who may otherwise be hunkered down in their cubicle all day to get up and take a brisk walk outdoors. After all, they have to do their business too. In addition, there has been a lot of discussion in the media about "sitting is the new smoking", taking your dog for a walk on your break can alleviate the physical aspects of this issue while providing companionship at the same time.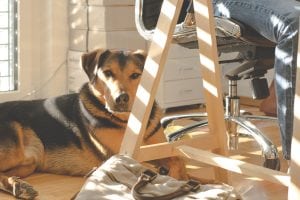 Setting Your Pet Friendly Policy Up for Success
Before considering a pet-friendly workplace, there are a few common-sense policies that should be implemented:
Pets need to be current on all vaccinations and flea and tick preventions
They should be well-trained and able to get along with other pets and humans
Owners must uphold a standard of pet hygiene
Make any dietary concerns known to everyone
A potty policy is absolutely necessary
Designated areas for those who suffer from allergies or anyone who isn't comfortable around animals
Office initiatives have a higher chance of being successful if there is a rule book that's rolled out prior to the program going live. Consider a full pet policy and Q & A session before starting a pet-friendly workplace.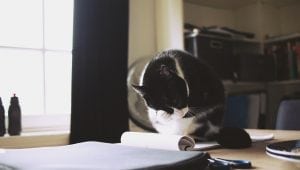 There are several big name companies that are pet-friendly. A few notables include Bissell (makes sense, they sell carpet cleaner), Glassdoor, Ticketmaster, Amazon, Google, Nestle, and PetSmart. Not sure if this will work in your office? Pilot it for a week or a month and see how it goes. Address concerns promptly and fairly so they don't become major issues. Above all, consider the huge benefit your potential new plan will have for owners and pets alike.
As a local example is Zuke's, a natural pet treat company located in Durango, Colarado. Zuke has 25 staff members and an average day at the office, there are also 10 dogs at work and on certain days as many as 20.  Employees there say that life is better with a dog and if your dog is with you at work, the same holds true.
Here at Office Furniture EZ, we love our dogs. Our roles here call for us to be out conducting Free Site Surveys, deliveries and setups much of the time, but rest assured, our faithful friends are most helpful in our home offices!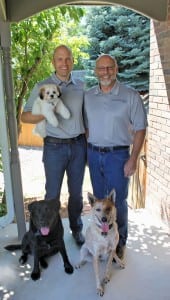 [/et_pb_text][/et_pb_column][/et_pb_row][/et_pb_section]
Need help? Have a question?
Looking for a price quote?
Schedule a Free Space Planning Visit