Is Your Office Ready for a Makeover?
5 Ways Your Office May Be Sending the Wrong Message to Clients & Visitors
When visitors enter your office, what message are they receiving? Does it scream 1980s? Are there sharp metal desks everywhere in a large room with pale pink walls? An outdated office can send the wrong message to your clients, visitors and employees. So here are some warning signs that your work space may need an office makeover.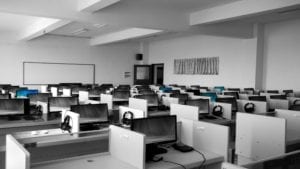 Client visits are held offsite
An obvious symptom that your office in need of a makeover is that client or visitor meetings aren't being held onsite. If your workspace isn't suitable to show your clients, then it's likely overdue for some TLC.  Start by taking a ceiling to floor look at your office. Then prioritize what's needed most to make your office a place that you're proud to bring guests. Make a wish list and then compare it with your budget. Ask key managers, stakeholders and other employees for their suggestions.
Do you have a "nice part of the office" for job interviews and meetings?
Perhaps your whole office isn't outdated. Instead, maybe it's just certain parts are stuck in the previous decade – and you make sure that no outsider ever ventures into those spaces. If you are attempting to attract new talent to your office, they're going to want to see it all; especially the areas where they will spend their days. In the current job market, candidates can be choosier about where they go to work, so a modern, clean and uplifting office is one of the many criteria considered by potential hires.
Look at the "nice part" of your office and determine what steps would be necessary to help the rest of the office catch up to it. Is it just some paint and new carpet? Maybe it's a few well-placed décor items in addition to a nice sofa and lounge seating set. Perhaps you need new cubicles or desks.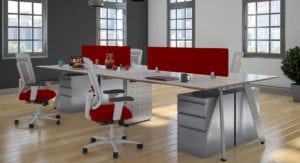 Areas that foster communication among employees
Collaboration is key in many office environments, particularly those with teams. Does your office have various places where several individuals can gather – in both a formal and informal setting? A conference or meeting room is a must but in the interest of providing a space for one-off or breakout meetings, consider lounge seating sets, café style tables and chairs and individual privacy panels or partitions. And, don't forget the whiteboard!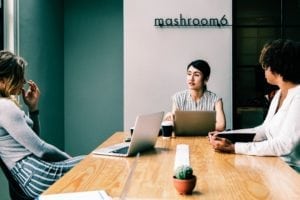 Also, you may want to create a fun space for individuals to work independently for short periods of time, such as pods or concentration stations. Individual workspaces and group workspaces can be updated with used or remanufactured cubicles for a fraction of the cost of new units.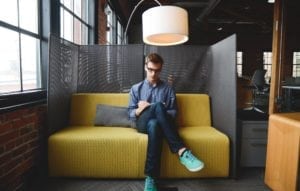 Look and feel are not aligned with your company brand
Does your office look and feel like the kind of place that would sell the products and services you offer? Is the décor that of a company that values quality, safety, craftsmanship, and service? Is there anything in the workplace that resembles your logo, website, packaging and other elements of branding? If the answer to any of these questions is no, then you'll probably want to consider an office facelift.
Color and design can be conveyed easier than you may think. A fresh coat of paint on the walls with the company colors splashed into the furniture scheme can help tie the brand together with the design of the office. Colored privacy panels are a great way to introduce bold colors while not investing a fortune in furniture. Office chairs also come in assorted colors and fabrics. Carpeting is another opportunity to freshen up an office and introduce some new color at the same time.
If your office has clutter in plain sight, you might want to invest in a few inexpensive cabinets or filing cabinets. Want to go bold? Consider having the company logo, mascot or slogan professionally painted on the wall.
Outdated furniture, walls, lighting, and carpeting
The movie Office Space showcases a dimly lit office with outdated cubicles and desks along with a very temperamental printer that drives employees to their wit's end. A deteriorating environment is often detrimental to both morale and image. Look around and triage what needs immediate attention.
An inexpensive and fun way to conquer fluorescent lighting is by using sky panels – light covers with designs of the sky printed on them. Floor and desk lamps are another inexpensive way to warm up the office lighting scheme. If re-carpeting isn't feasible, consider getting the carpets professionally cleaned. If a change in flooring is possible, consider removing the old carpet and using the flooring underneath with strategically positioned area rugs in common areas.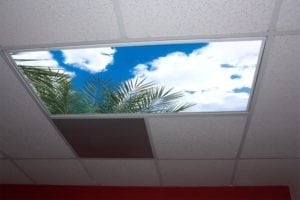 If you need ideas or inspiration, we can help. Office Furniture EZ offers a Free Site Survey at no obligation. We will visit your work space and take careful measurements of the area, taking time to note important components like power sources and load-bearing beams and then we will craft a recommendation based on your unique needs and budgetary goals. Call us at 303-406-3329 or complete our online form to schedule a survey for your office today.
Need help? Have a question?
Looking for a price quote?
Schedule a Free Space Planning Visit