What size cubicles do I need for my office?
How to determine cubicle sizes
What size cubicles should I buy? Cubicles come in a variety of shapes and sizes. The two main areas of measurement are the cubicle footprint and the height of the walls. Let's dig into your options!
Cubicle Footprint
A footprint is the area affected or impacted by another object … or in other words, the space something takes up in a certain area. There are two main type of cubicles – call center cubicles and standard office cubicles.
Call Center cubicles are also known as telemarketing cubicles and they are designed to house a maximum number of employees in a set space. They offer just enough space for one person to work. Their walls are often low in height and the privacy panels (sometimes called partitions) only extend to the edge of the desk.
Common call center cubicle footprints are:
2'x5'
4'x4'
5'x5'

Standard Office Cubicles are larger than call center cubes. They come in a wide variety of spaces, shapes, and layouts. They are designed for a single user however there is more desktop workspace, room for storage and in some instances, enough area for a chair and guest. The desktops in these cubicles is often L-shaped or U-shaped and it can be designed for low, medium or high panels.
Common standard cubicle footprints are:
6'x6'
6'x8'
8'x8'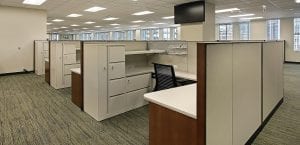 The number of employees and the square footage of workspace are the driving factors for many businesses in terms which size to choose. Other considerations include the availability of power and data sources. We offer a Free Site Survey to help you quickly assess the best use of your space and we can also discuss other options that may impact your decision making such as comfort, interaction, noise, and even status (manager vs. non-manager).
Cubicle Height
The next size decision you will need to make is the height of the cubicle panels. Here are some common heights:
39" – employees can see one another while seated
47" – limited seated privacy – employees can see others if they peer over the top of the panel
53" – employees have seated privacy from colleagues
62" – seated privacy and standing privacy for those 5'1 or under
67" – seated and standing privacy for most
85" – standing privacy for all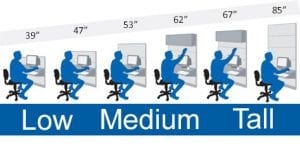 There are benefits and challenges to the different heights of cubicle walls. Here are a few that we encounter:
Advantages of short cubicle walls:
Natural lighting throughout the room
Good airflow
Colleagues can easily collaborate
Less materials/carbon footprint
Less cost
More effective supervision
Disadvantages of short cubicles walls:
Noise and visual distractions increase
Little or no overhead storage
Very little privacy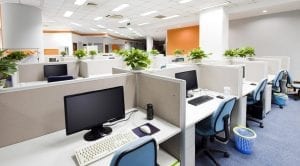 Advantages of tall cubicle walls:
Privacy/similar to an office
Noise and visual distractions are limited
More room for overhead storage
Disadvantages of tall cubicles walls:
Light is impeded
Airflow throughout the room is greatly reduced
Employees are isolated
Colleagues must visit the entrance to the cubicle to interact
Increased cost/materials/carbon footprint
Supervision is more challenging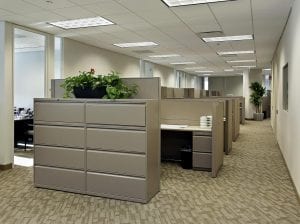 If this sounds like a lot of information, don't worry. We have over a decade of experience in planning, designing, delivering and installing cubicles. Best of all, we offer office furniture at up to 50% off of list price, so you get expertise and quality at a fair price. Want to learn more about cubicle terminology and other options? Visit our Cubicles page now. Interested in seeing some of our work? Visit our Showcase page! Ready to start planning? Schedule your Free Site Survey today!
Need help? Have a question?
Looking for a price quote?
Schedule a Free Space Planning Visit