Create a Welcoming Reception Area
What is your reception area saying about your organization? Is it making a positive impression. Is it a welcoming reception area or a little blah? Here are 10 ways to spruce up your reception area so it will make a great first impression with your company's visitors, clients and special guests. 
1. A
proper reception desk
is crucial.
The size of the desk should comfortably accommodate the number of employees you have working in the area and the walkway to the individual(s) responsible for greeting newcomers should be obvious. A well-placed sign that reads, "RECEPTION", "CHECK-IN", or something similar is very effective. The reception desk should have a clean counter top for temporary placement of items, signing papers, or conducting transactions. The desk should be organized and show no signs of wear. This is your only chance to make positive impression.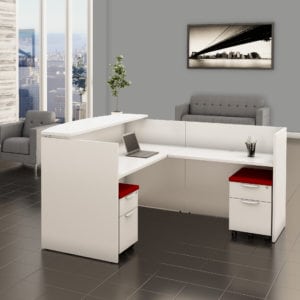 2. Is
your logo
front & center?
When your visitors arrive in the reception area, it should be abundantly clear where they are, in particular – what company they have entered. Your logo should be prominently placed. This is a great way to add sophistication and at the same time showcase your brand. If you want to add even more focus to your logo, consider some spot or directional lighting to further accentuate it.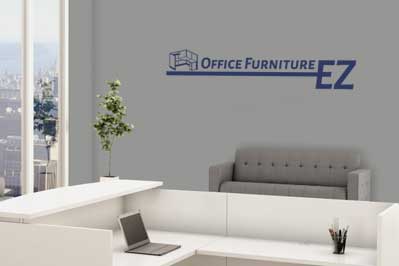 3. Durable and attractive
waiting room furniture
… for style and functionality.
A proper and welcoming reception area needs a comfortable place for people to wait, sometimes with several others. A lounge seating set complete with sofa, club seats and an accent table is good if you need seating for just a handful of guests.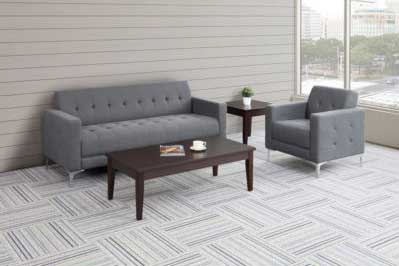 Waiting room seating configurations are ideal for a greater number of visitors and/or more restrictive space.
4. Can we offer you
something to drink
?
Offering bottled water or coffee is always a classy touch. You can make this the role of the receptionist or you can offer it in a self serve setting. If you opt for self serve, be certain to keep this area tidy by checking it regularly and restocking when needed. Consider branded coffee mugs … and if someone leaves with one, good for you! Your brand has followed them out the door and back to their place of business. Finally, be certain to have a waste container nearby that can accept liquids.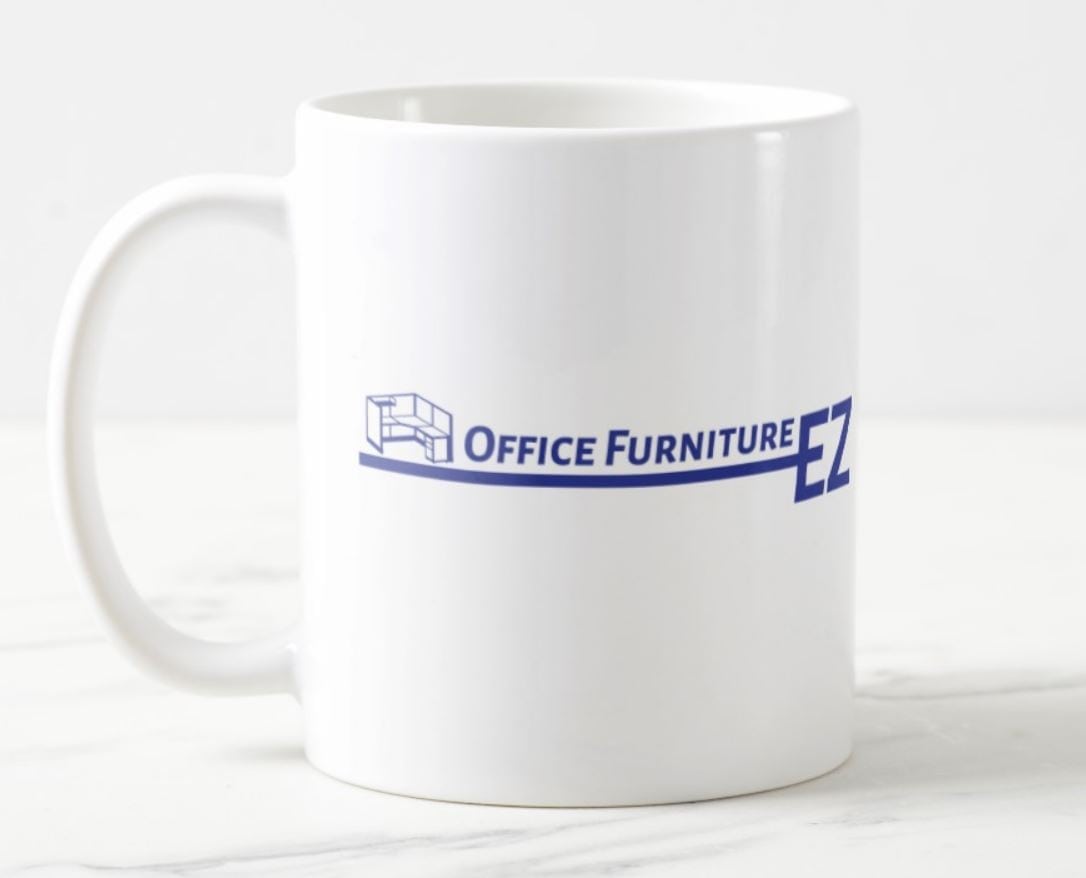 5. Nice healthy
plants
help to finish the look.
Plants provide a lovely finishing touch and they also demonstrate that you can properly care for a living thing. It sounds like a small detail, but when it comes to your clients, you want to be your best in a variety of areas. Look for foliage that is easy to maintain or you may consider hiring a plant service.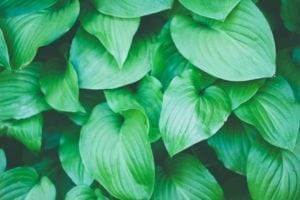 6. Artwork, awards and accolades
.
In addition to your big bold logo, consider some artwork that complements your reception area. One idea that's very popular is to locate some historic photos of the town or area where your company is located and have professional, framed prints made. These can serve as terrific talking points and at the same time demonstrate your longtime commitment to the community. If your company or employees have won any awards in the industry, they should also be on display for your guests to view, provided they're current.
7. News!
(Papers or TV).
Demonstrate that you're up to date on the latest news by having the newspaper available. If space and configuration permit, it's nice to have a television on as well (at a reasonable volume or with closed captioning enabled). Magazines are also a great addition to any area with waiting for an appointment. In particular, anything relating to your particular industry along with topics aligned with your client base (news, sports, fashion, entertainment, etc.).
8. Got
WIFI
?
Your guests will appreciate a strong WIFI connection for their mobile devices. A charged smartphone, tablet or laptop with an Internet connection can make a wait seem shorter and it affords your guests the luxury of staying connected while they're away from their workplace. A WIFI connection isn't enough though. Go the extra mile and create professional table top or wall signs that invite users to connect and provide any instructions (if necessary) on how to do so.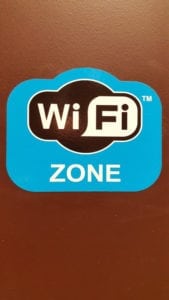 9. Tell your guests you're on
Social Media
!
Speaking of staying connected … use the traffic in your waiting room to make your guests aware of your social media channels. Invite them to connect on Facebook, Instagram, Pinterest, Twitter and more by way of small signs. If your IT team is really savvy, they can even craft your WIFI login/acknowledgement page to display links to your social media accounts once the user connects.
10. The
Little Things
.
People love swag. It's human nature to want to help yourself to a pen, a golf tee, a notepad, or something similar. If your budget permits, make something available to your guests at no charge. A simple pen with your name, URL and phone number on it can make its way into a lot of hands once it leaves that waiting room. Is it worth $.30 each or less to go fishing for new business? Other small but helpful touches include: a clock that shows the date and time, hand sanitizer, tissues (displayed in a nice dispenser) and clearly marked signs for the restrooms.
Your waiting room is your guest's home away from home when they visit you. It's also the place where your customer will formulate his or her first impression of your entire organization. Invest some time, money and thought in order to maximize this one-time opportunity. Once you've got your welcoming reception area set up, observe how your customers behave. Ask for feedback from trusted alliances. Revise if necessary. Keep going and keep growing!
Need help? Have a question?
Looking for a price quote?
Schedule a Free Space Planning Visit