Open Office Layout vs. Closed Office Layout
Open office layouts are rising in popularity across America. This is especially true in offices where a majority of employees are millennials and companies that specialize in creative designs or products. But is an open office layout the best solution for your business?
What is an Open Office Layout?
An open office layout is loosely defined as a workspace where that includes some, or all, of the following:
there are few or no permanent walls
employees and office equipment located in a large, communal space
employees work in visible proximity to their teammates
In the more traditional office layout, also known as the closed office plan, there are walls, cubicles or offices, and each employee typically has his or her own private or semi-private work area.

Here are a few advantages of the open office layout:
They can foster collaboration between employees through increased interaction
They are often more economical as a result of fewer partitions and corridors – you can fit more people in less space
More flexibility – you can move desks, tables, and storage around without the need for construction or remodeling
Effective supervision – it's easier to monitor performance and production of employees
Shared equipment – less equipment is needed because it can be shared by all
A more modern look – creative placement of desks, work tables, meeting areas, and other furniture can create an innovative look and feel
Better lighting and ventilation – circulation isn't cut off by doors and hallways
Here a few of the disadvantages of the open office layout:
Noise – with lots of people are within earshot of one another; side conversations can be distracting
Concentration can be difficult
Lack of privacy – no walls means there's nowhere to be alone with your tasks or personal emails
Health concerns – if someone has a cold, it can spread faster
An untidy appearance – files, papers and personal items can get scattered about creating a space that looks cluttered or chaotic
What Works Best?
While some companies are firmly in one camp or the other, some organizations are finding that a mixture of the open and closed plans provide both the structure and flexibility that employees need. A combination of the two plans might include cubicles and offices combined with communal areas for impromptu gatherings or a comfortable change of pace.
Stools, tall tables, couches, and reception style seating in lounge areas can be just the thing needed for the modern employee to be most productive while still providing a private, structured area for those who prefer a traditional office environment.
To learn more about how you can create a stunning yet functional open-office space, contact us today.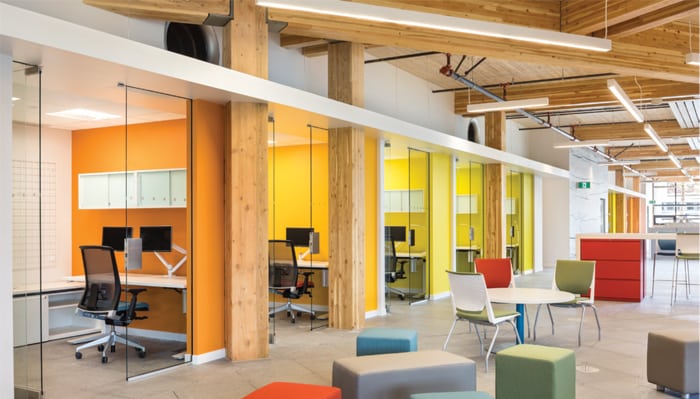 Photo credit: Ed White, Cr. Laurence Co.
Need help? Have a question?
Looking for a price quote?
Schedule a Free Space Planning Visit