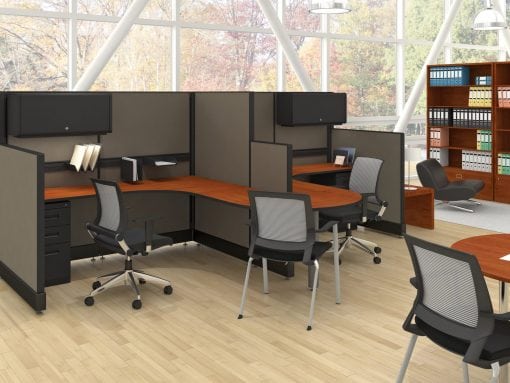 Quicktime Office Cubicles – When Time Matters!
When time matters, our Quicktime Office Cubicles, also known as "Quickship Cubes," ship fast – in 1-2 weeks! They are offered at a great savings too. Here at Office Furniture EZ, we're family owned and operated, so we know how important it is to maximize your budget and be ready to go on time. Let us work with you to create work spaces your associates will appreciate, while filling your companies density and productivity goals.
Features
These new cubicles are Herman Miller compatible and offer enough flexibility to fit most needs.
The most popular workstation components are available to meet your work & storage needs.
Select from a limited, but, good selection of popular in stock fabrics and finishes.
Pricing is up to 75% off of list.
Need electrical and low voltage services? We can help!
How to Get Started
The best way to begin is with a no-cost, no-obligation site survey. This enables us to help you maximize the space you have.
We are experts at delivery, installation and setup.
Call or text us now at 303-406-3329 or 720-226-5014 to set up a time for us to visit your office.
Delivery and installation available anywhere in the continental United States. Save up to 75% Off List Price!
Need More Info?
Call or text 303-406-3329 or 720-226-5014.
Use LiveChat, or, if we are offsite at an install, leave a message on Chat.
Send an email to – info@officefurnitureEZ.com .
Want to learn more about office cubicles? Check out our cubicles page.
And, of course, delivery, installation, electrical, and data services are also available – anywhere in the U.S.A.
Already have a drawing or quote? You can send it to us below…