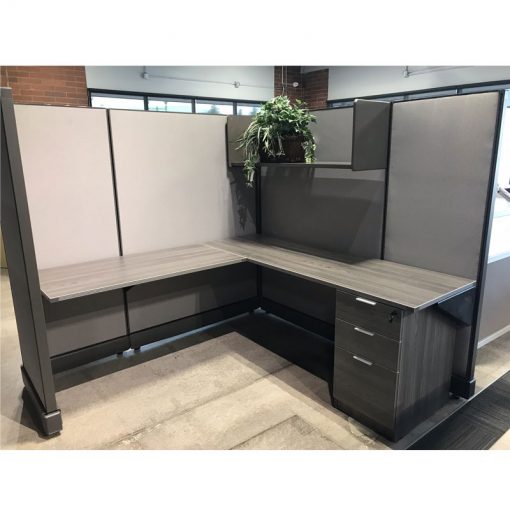 EZ Combines Used, Refurbished & New For Custom Sized Cubicles at Significant Savings
In-Stock Locally!
Looking for custom cubicles? We have the elements and we can built it for you! Best of all, the parts are a combination of new, used and refurbished – so you pay less and they're environmentally friendly. We build these workstations to fit your facility's space. This enables you to optimize your employee's work space while meeting your associate density requirements.
Not all businesses operate out of a wide open room with 90 degree angles. Unique spaces call for creative solutions and we are highly experienced in space planning, design and layout.
How It Works
With custom blended cubicles, the finished product is created using a combination of 3 main parts (used, refurbished and new).
The panels are used, but the fabric that covers the panels is new (thereby making this part of the unit refurbished).
The hardware elements (connectors, overhead bins, and shelves) are used, but in great shape.
The work surfaces and file units are new.
Features of Custom Blended Cubicles
Used Herman Miller panels are recovered with new, neutral / mauve fabric.
Connectors, shelves and overhead bins are used product that will be in great shape.
Work surfaces and file units are new – the file units will be in a matching laminate. These units are comprised of well-matched elements. No mismatched parts!
Did you have something special in mind? We can add on whiteboards, under shelving lighting, glass partitions and even locking doors!
Specifications
The cubicle footprint options vary greatly! They can be anything from a low-walled 2×4' hoteling station to a popular mid-height 6×6' cubicle to a tall, walled 10×12' manager's office
We offer your choice of 24" or 30" deep work surfaces.
File units can be 2-drawer (two large hanging file drawers) and/or 3-drawer (one large hanging file drawer and two smaller drawers).
Overhead bins with flipper doors and open shelves can be added.
Units can be powered with two duplex receptacles per cube (four outlets total) or not powered.
How To Get Started
Request a

Free Site Survey

. We'll come out, discuss your needs and carefully measure and access your space.
Delivery & installation costs vary by project, but we are highly experienced and reasonably priced in this area.
These cubicles are available quickly – the used product is in our warehouse and the new items are stocked locally. Once we know what you need, we can gather the elements and set up a time to deliver and install your cubicles!
Don't delay! Call now to get your workstations ordered. Because these units appear new and are offered at significant savings, we often book out up tot 2-3 weeks on projects.
Let us space plan these great blended workstations for you at NO CHARGE.
Remember, our Site Surveys, space planning services and quotes are free with no obligation.
Want to see a sample in person? Visit our showroom and take a look (Monday-Friday 9AM to 4PM).